SharePoint Development & Consultancy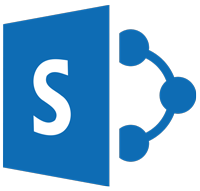 Essential collaboration and communication for your business on premise or in the cloud.
Microsoft SharePoint is an easy-to-use system that lets your teams and partners work together in real-time, locally or worldwide.
Whether planning a SharePoint intranet/extranet deployment or upgrading to the latest version, Influential's SharePoint team works with you to ensure the success of your project.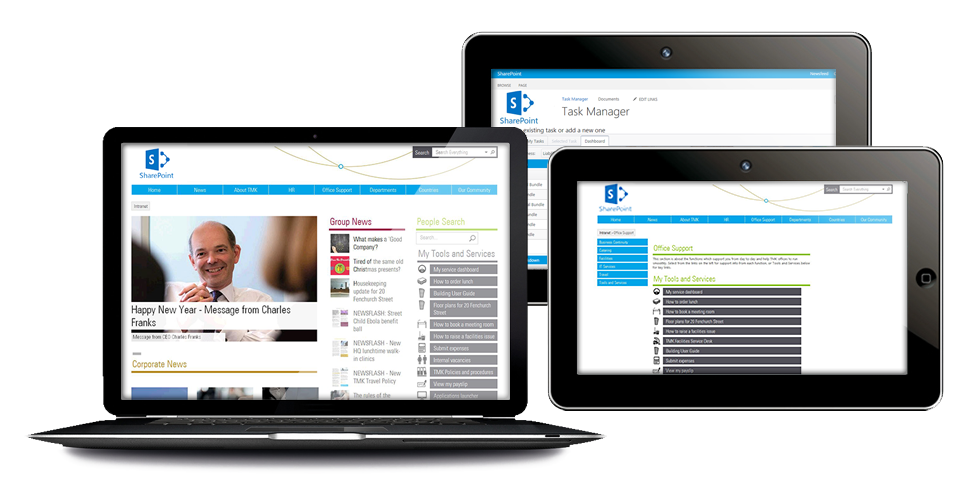 Get your teams working together: Enterprise Grade Intranets and Extranets
SharePoint's secure Intranets and Extranets boost communication and collaboration between your internal teams, business partners, vendors and clients. The systems we build are secure global business hubs that provide synchronised resources, creating better project management and task efficiency, through networks for internal or external use.
SharePoint 2016: "born in the cloud and future proof"
SharePoint Server 2016 is Microsoft's most reliable, scalable, high-performance release to date with a host of new innovations and features designed to empower people, teams and organisations.
The New SharePoint: "Simple, Intelligent & Untethered" – Seth Patton, General Manager SharePoint and OneDrive, Microsoft
The new cloud-inspired infrastructure and hybrid capabilities have improved speed, scale and user experiences, combining the best of both on-premise and cloud tools and features. Collaboration has never been easier with additional management functions and simple tools that integrate seamlessly with Office 365 and other applications.
Migrating and Upgrading to the latest SharePoint
A fast and seamless transition is vital when your business needs to deploy a new platform.
Influential takes the pain out of migrating or upgrading to the latest SharePoint with experienced consultants to guide you through your exact requirements and expert developers to deliver a smooth deployment.
Whether exchanging data, collaborating on joint projects, or migrating from almost any platform – these solutions allow you to conduct your business with ease and Influential will always deliver on time at the most cost-effective price.
Featured Projects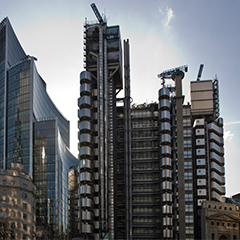 Corporate Insurance Giant: Boosting Global Collaboration With Influential's SharePoint Intranet Business Hub
Challenges:
Upgrading from incompatible systems and migrating to a single hub

Information stored in different locations and formats

Engaging staff – low take-up on previous systems
Objectives Achieved:
Provide a key communication channel and services portal for the global business

Assist employees in doing their jobs and collaborating with one another

Provide easy access to the latest versions of documents and information

Facilitate corporation information dissemination (e.g. latest news, policies etc.)

Improve knowledge management – one version of the truth

Support effective company-wide collaboration

Aid employee engagement and team work-flows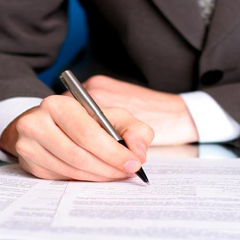 Huge Efficiency Gains for Global Insurer After Switching to a Bespoke SharePoint WorkFlow by Influential
Challenges:
Out-dated paper-based system efficient document filing and processing

Insecure file storage with no backups

No facility to track progress or monitor KPIs
Objectives Achieved:
Enhanced efficiency, boosted productivity, and instant, accurate breakdowns of workflow performance

An all-new digital workflow that replaces current paper-based system system in just 8 weeks

A user-friendly UI on the SharePoint platform to handle the complex workflow processes
Related Articles:
If you would like to talk to us about a business intelligence solution, software solution or any IT project you need to deliver successfully, please
contact us
. Visit us in the world famous
Searcys rooftop bar
of our landmark 30 St Mary Axe (City) site or at our Kent and Glasgow offices to discuss your needs.