Successful Year for Influential Apprentices
Posted on Monday 3rd October 2016 10:30
Influential are proud to invest in promising local talent and last year took another step by signing up for the National Apprenticeship Service Scheme. 12 months on, the 2015-2016 apprentices look back on their year. How did they find it and what are they up to next?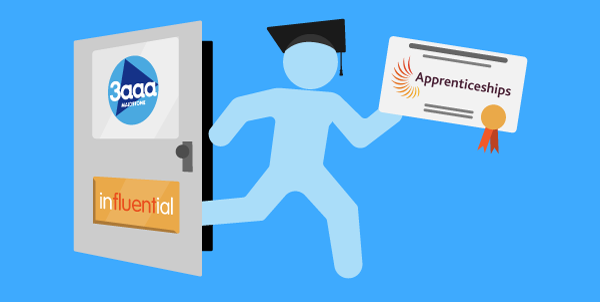 Investing in Local Talent
In 2015 Influential welcomed new local apprentices to our Maidstone office for a 12 month programme of learning and skill development. With their placements now complete we asked some of them and their training academy to reflect on their time here.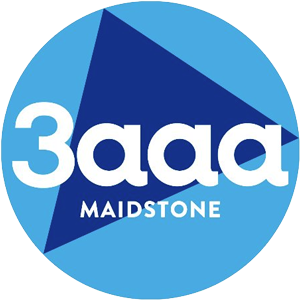 The candidates were found through locally based 3aaa Maidstone Academy, who provide professional and exciting Apprenticeship frameworks and a first-class learning experience to support work placement.
Maidstone Academy Manager Trayciegh Hendy says, "We are proud to be able to deliver the life changing opportunities to young people that we do. The apprentices really enjoyed their time at Influential and appreciated the experience."
How Did the Apprentices Do?
The apprentices began their employment with Influential at the end of summer 2015, with training classes from 3aaa and an assigned Influential mentor each.
"They displayed an eagerness to learn", remarked their Academy IT Tutor, Anton Balzan. "Each of them came with their own level of understanding in IT that they wanted to take to the next level." Anton observed them "broadening and harnessing" the skills they knew they would need "at their place of work and for their future careers".

"The apprentices gained so much knowledge and work ethic throughout their experience with influential, I watched them grow into professionals."  ~ Lucy Todd, Recruitment Executive, 3aaa Maidstone Academy
With existing aspirations to work in a software development company, apprentice Sam Collins was thrilled at the chance to take up the placement. "Before the apprenticeship I was studying at school, but I didn't feel it was helping me reach my full potential," he said. "At Influential I was assigned a mentor who guided me to work harder, assisting when I had a problem. Not only have I improved my PHP knowledge, but I have also been able to learn new frameworks and techniques used to build an enterprise grade application."
When asked about his time at Influential, fellow apprentice Joshua Hobbs said, "I felt like I was part of a forever growing family. The teams showed me everything I needed to know about writing in their coding languages, which led to me creating my own game. Thank-you to everyone that helped me – future apprentices will love it!"
"It was great to have the opportunity to mould such refreshing young talent," said Influential's Software Development Manager, Pete Halloran. "The apprentices worked very hard and have achieved so much during their time at Influential. The entire development team are glad to have been able to help them develop skills and knowledge to give them a fantastic start in their IT careers."
"All the apprentices worked extremely hard to finish their work on time and were successful in achieving the Level 3 in IT qualification," their tutor Anton concluded. "I am very proud of what they have accomplished. I wish them all the best of success in the future."
An Influential Future
Anton also confirmed that Sam Collins "decided to take the plunge and progress further by starting his next journey onto a level 4 IT apprenticeship." He added that Sam has the utmost confidence in himself to achieve this and "will let nothing stop him."
"We are extremely proud of Sam," said Trayciegh, who believes his progression to Level 4 is "a true testament to the value of apprenticeships."
Influential have a proud history of investing in young, local talent and a number our highly skilled professional developers began their careers at Influential as interns or apprentices.
"I look forward to continuing for another year and being able develop my skills not only in PHP but also my communication skills especially with clients." ~ Sam Collins.
The Value of Apprenticeships

Successful apprenticeships benefit all those involved. Unearthing new talent helps Influential grow as a business, but it's also important that the apprentices themselves feel they are growing. Influential work closely with the Maidstone Academy to ensure apprentices are engaged and developing both skills and determination to forge a successful career in the industry. "A very high majority of our apprentices complete their apprenticeship," said Trayciegh. "More often than not they stay on with the employer they started their career with."
Research shows that the UK economy gains £34 billion per year from apprenticeships and that for every £1 spent on apprenticeships, the national economy gains £21. This economic gain is a clear motivation to continue investing in them, but the social benefits are equally important.
Apprenticeships promote social responsibility; by supporting local youth, companies are helping to develop the future workforce. This demonstrates an investment in the local economy, and a commitment to the community overall. This successful apprenticeship year is part of Influential's continued plan to invest in local talent and continue company growth.
Related Articles:
For 25 years Influential Software has delivered quality business software & data solutions from within the UK. If you would like to talk to us about a business intelligence solution, software solution or any IT project you need to deliver successfully, please contact us.