Influential Takes The Cake – Charity Christmas Bake Off
Posted on Friday 15th December 2017 12:59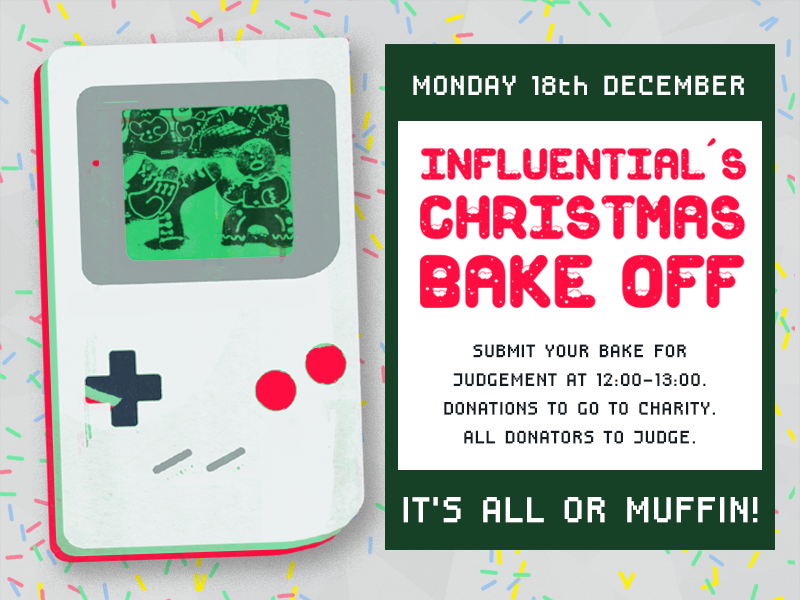 Once again the development teams at Influential's Maidstone HQ are creating quite a stir. Things are about to get a little tasty, as our monthly bun-fight gets a dusting of cheer for a Christmas Charity Bake Off.
On Monday the 18th the baking gloves are off as our coders become contestants, developers prepare to devour, and support teams show their sweet (and savoury) sides.
The competition begins at midday, where the spread of cakes, pies, biscuits and pastries brought in by our teams will be put to the taste test. Anyone wishing to be a judge or those who simply cannot pass up a tasty treat can then make a donation to sample the selection vote for their favourites.
Serving The Community
While there are always plenty of software development projects for our teams to get their teeth into, the monthly competition offers the chance to show their lighter, fluffier sides. It also helps raise awareness for local charities and events, and this month we are proudly supporting the Peggy Wood Foundation.
The charity was set up almost forty years ago to raise funding for life-saving equipment to treat cancer and leukaemia at our local Maidstone Hospital. The charity also raises funds from their shop on Mill Street, Maidstone, where they have been based for almost 30 years – and took the name of Peggy about ten years ago in tribute to Peggys decades of work and dedication to the cause.
We've no doubt our teams will rise to the challenge, but who will whisk away the Bake Off title and who will crumble? It's all or muffin!
Update: Mince Pies Are A Feast For The Eyes
This year the competition was hot and the plates were all soon emptied. As the dust settled and the crumbs were brushed off, it was time to reveal the Christmas Bake Off champion. Once again the crowd were wowed by the now veteran bake-off winner Dominick Rankin, whose festive, boozy mince pies were a feast for the eyes and many happy stomachs.